Japan is a country of festivals. If one had time, a festival could probably be found somewhere in Japan every weekend. Here, for instance, is the list for just the festivals celebrated each year in the city of Hamamatsu. They all look fun and interesting.




Akiha Fire Festival
Ever since long ago, Mount Akiha was believed to have supernatural powers to prevent fires. Bow and arrow, sword, and fire dances are performed at the Akiha Shrine. At the Akiha Temple, a firewalking ceremony is performed where both believers and spectators celebrate the festival. (Haruno, Tenryu-ku — December)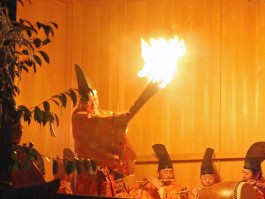 Enshu Dainenbutsu
When a family commemorates the first Obon holidays after the death of a loved one, they may request that a dainenbutsu (Buddhist chanting ritual) be performed outside their house. This is one of the local performing arts of the region. The group always forms a procession in front of the house led by a person carrying a lantern and marches to the sound of flutes, Japanese drums and cymbals. (Saigagake Museum, Hamamatsu City — July 15)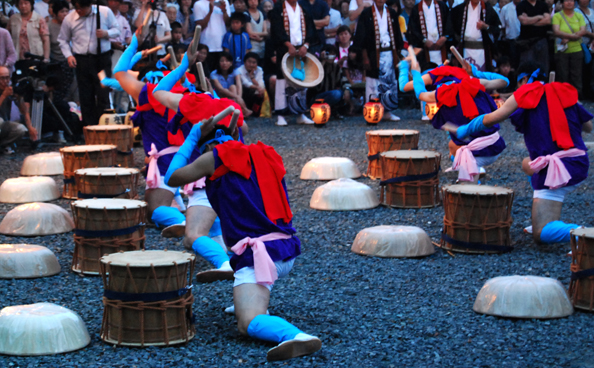 Hamamatsu Festival
Hamamatsu Festival, held from May 3 through May 5 each year, is well known for Takoage Gassen, or the kite fight, and luxuriously decorated palace-like floats. The festival originated about 430 years ago, when the lord of Hamamatsu Castle celebrated the birth of his first son by flying kites. In the Meiji Era, the celebration of the birth of a first son by flying Hatsu Dako, or the first kite, became popular, and this tradition has survived in the form of Hamamatsu Festival. It is extremely exciting to see over 160 large kites flying in the sky to the sound of bugles. Those who visit Hamamatsu at this time of the year can experience the city at its most exciting time.
During the nights of Hamamatsu Festival, people parade downtown carrying over 70 yatai, or palace-lake floats, that are beautifully decorated while playing Japanese traditional festival music. The festival reaches its peak when groups of people compete by violently marching across town. (Naka-ku, Minami-ku — May)

Hamakita Hiryu Festival
This festival is held in honor of Ryujin, the god of the Tenryu River, and features a wide variety of events such as the Hamakita takoage (kite flying) event and the Hiryu himatsuri (flying dragon fire festival) which celebrates water, sound, and flame. (Hamakita-ku — June)

Hamamatsu International Piano Competition
This festival celebrates Hamamatsu's history as a city of musical instruments and music, and brings dozens of the best young pianists from all over the world. It has been held triennially since 1991 at the Act City Concert Hall and Main Hall. (November)

Hamakita Manyo Festival
This event takes place in Manyo-no-Mori Park to commemorate the Manyo Period and introduce its culture. As part of the festival, people reenact the ancient past by wearing traditional clothes from the Heian period and presenting Japanese poetry readings. (Hamakita-ku, Hamamatsu — October)
Inasa Puppet Festival
One of the few puppet festivals held in Japan, featuring 60 performances of about 30 plays by puppet masters from all over the country. The shows provide a full day of enjoyment for both children and adults. (Inasa, Kita-ku — November)
Princess Road Festival
This reenactment of a procession made by the princess in her palanquin along with her entourage of over 100 people including maids, samurai, and servants makes for a splendid scene beneath the cherry blossoms along the Toda River. In the Edo period, princesses enjoyed traveling this road which came to be known as a hime kaidō (princess road). (Hosoe, Kita-ku — April)

Shoryu Weeping Ume Blossom Festival
In Ryusui Garden there is a stream with seven small waterfalls and about 80 weeping ume trees pruned to give the appearance of dragons riding on clouds to the heavens. There are also 200 young trees planted along the mountainside. (Inasa, Kita-ku — late February to late March)